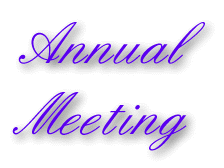 You are here: home > meetings

---



The 90th ANNUAL MEETING


OF THE


FLORIDA ENTOMOLOGICAL SOCIETY


will be held

July 15 – 18, 2007


at the
Ritz-Carlton Resort


1111 Ritz-Carlton Drive


Sarasota, FL 34236

Reservations: 800-241-3333
Hotel: 941-309-2000
Fax: 941-309-2100
http://www.ritzcarlton.com/resorts/sarasota/



Registration form (pdf

rtf)


AUTHOR'S INSTRUCTIONS


Student competition papers are 10 minutes long with 2 minutes for questions.


All other submitted oral presentations are 8 minutes long with 2 minutes for questions.
Posters should be
no larger than 48" x 48" (122 cm x 122 cm).

---

Authors must submit oral presentations in PowerPoint format. A laptop computer (preloaded with presentations), a LCD projector, and a laser pointer will be provided for each session.

The deadline for receipt of electronic oral presentations is

July 6, 2007

.

Symposium speakers should submit their presentations directly to their organizer. All other oral presentations (including student presentations) should be sent via email attachment, or if larger than 10MB, on a CD to:

Oscar Liburd
Local Arrangements Chair, FES
University of Florida Entomology & Nematology Dept.
P. O. Box 110620, Bldg. 970, Natural Area Dr.
Gainesville, FL 32611
Tel.: 352-392-1901 x108
Email: oeliburd@ufl.edu
Electronic copies of poster presentations may be submitted in pdf format to



The electronic posters will be linked into the program if submitted before the meeting.
Otherwise they will be posted in flaentsoc.org/annual-pdfs.htm.

---
---
You are here: home > meetings

Website Design Copyright © 1998 Colony One On-Line, Inc.
All rights reserved.

http://www.flaentsoc.org/annual.htm
7/12/07 Richard Mankin